3 More Reasons to Hunt with an Electric Bike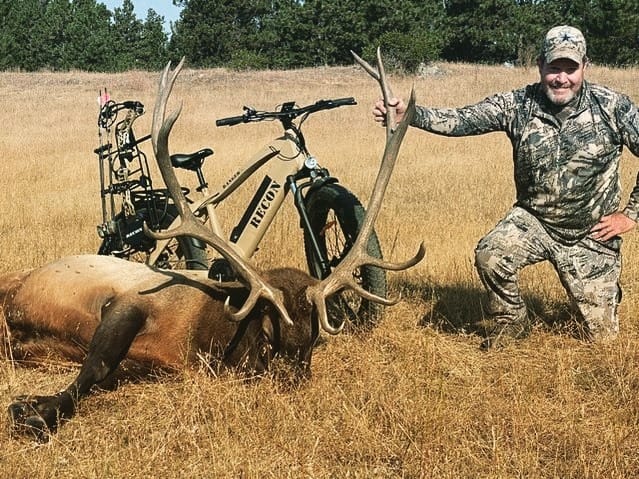 Hunters look forward to the fall with glee. After all, it's a chance to put their skills to the test and to put food on the table for the next year. Hunting benefits the herds by taking out animals so there is more food for others during the cold winter months. Hunting fees also are an important revenue stream for the Division of Wildlife (DOW), state governments, and the small communities that rely on the revenue dollars hunters bring in. That being said, hunting is most definitely challenging, so any way that can make hunting easier is embraced by hunters the world over.
Hunting bikes are making waves amongst hunters for the many benefits they bring. RECON Power Bikes offers the best hunting bikes in the industry, featuring 4″ tires, a powerful motor, and many electric hunting bike accessories to make towing your gear and animal easy. Below, we'll take a look at three more reasons to invest in an electric mountain bike for hunting. Browse our entire hunting ebike selection today!
3 MORE REASONS TO INVEST IN HUNTING EBIKES
Easy to Transport
If you've hunted with ATVs, you have to have a means to transport them up to your hunting location, and they don't exactly fit in the back of your car's trunk. You have to have a trailer to haul them up to your camping site, which can be a hassle, not to mention an added cost in gasoline for towing and to purchase a trailer. When you invest in an electric hunting bike, these can fit in the back of your pickup truck. They are lightweight, so you won't have to worry about added weight to your vehicle while in transport. You can even bring your hunting bike with you on an airplane. Shop RECON's best electric hunting bicycles today.
Exercise
One of the biggest reasons people invest in ebikes is because they can use them for exercise to lose weight or get in shape. When you are hunting, you will burn a lot of calories anyway just being out and about in the great outdoors, hiking around, and camping. However, if you invest in a hunting bike, you will be able to travel the woods and grasslands easily, covering many miles in a day. This is not only fun, but it's also great exercise as you traverse the rough terrain and travel farther than you normally would.
See Beautiful Country
People hunt for many reasons, but one of the biggest reasons and one of the best benefits of hunting is seeing the beautiful countryside that your quarry is living in. Hunting takes place in the fall, which means the opportunity to see the beautiful colors the leaves turn, babbling brooks in meadows, and animals preparing for the winter, such as birds, squirrels, and beavers.
Of course you want to bag your game, but if you don't, you can have fun on your hunting bike traveling many miles and enjoying the beautiful country you are privileged to live in. Getting up early before sunrise, hopping on your electric mountain bike for hunting, pedaling to your hunting spot, and watching the sun rise is what life is all about. Browse RECON Power Bikes' best electric hunting bikes to partake in the beauty life affords today!
CHOOSE RECON POWER BIKES' ELECTRIC HUNTING BICYCLES TODAY
RECON Power Bikes offers the best hunting bikes for your next hunting trip. These ebikes are made for rough terrain, featuring 4″ tires, Shimano drivetrains, heavy-duty frames, and powerful motors to get you to where you need to go. Shifting is smooth and speeds range from 20 mph on up. You can go dozens of miles on a single charge, and you'll have hydraulic heavy-duty disc brakes for supreme stopping power. You can go up to 50 miles between charges, and our frames feature a lifetime warranty. We offer free shipping and 0% financing on all our hunting bikes.
Hunting is a great sport and activity for the entire family. Not only are you out in the woods, connecting with nature, but you are also helping the forest ecosystem. If you are interested in our hunting bikes or our ebike accessories for hunting, such as our RECON Cargo Master Trailer, our Firearms and Bow Holder, or our Saddle Bags, order online today!