Hunting & Fishing Power Bikes
Gain a Stealthy Advantage With Recon Power Bikes
Travel Farther, Reach New Areas and Do It Silently!
Recon Power Bikes are a tremendous addition to your hunting and fishing arsenal, allowing you to silently reach your favorite areas quickly or discover completely new ones. Our electric mountain bikes allow you to silently travel 35-50 miles on a single charge, with speeds up to 30 MPH. Much quicker than walking and far quieter than ATVs, our all-terrain ebikes will change the way you hunt and fish. Learn more about our battery-powered bikes and get yours today!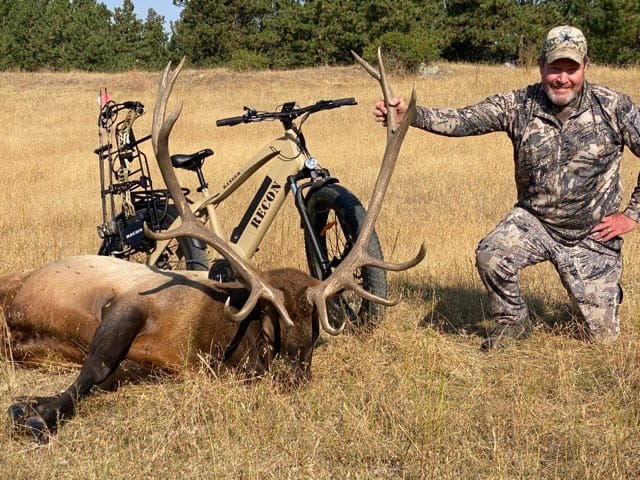 Why Choose Recon Power Bikes?






Best Electric Mountain Bike Value For Hunting and Fishing
Recon Power Bikes has long been the leader in law enforcement ebikes, but now our incredible electric bikes are available to you! Of the many great uses for our all-terrain ebikes, hunting and fishing are two of the best and most fun. Our electric mountain bikes enable you go farther, faster, and quieter than traditional means. Plus the ability to haul extra gear via our bike rack or trailer.
Get back into remote areas faster, quieter and with minimal scent. Reach back country areas that you never thought were possible to get in and out of effectively. And if you're worried about noise, well, Recon Power Bikes are quiet as a whisper, so much so that even others hardly realize you're not on a traditional bicycle.
Recon Power Bikes are the best electric mountain bikes for the money available, allowing you to travel up to 50 miles on a single charge and speeds up to 30 MPH. You also have access to helpful accessories to increase your cargo capacity, extend your travel distance and make ebike transportation simple. We even offer a Solar Pannier bag, to charge your batteries off grid.
BUY NOW

Unlock the Wilderness' Potential
Featuring a best-in-class mid-drive motor (Recon Ranger)
Powered by 48-volt lithium-ion batteries, Recon Power Bikes are the best electric mountain bikes out there. Navigate the wilderness like never before and truly unlock its potential with speeds up to 30 MPH and travel distances up to 50 miles on a single charge. The only limit is your imagination.
Our all-terrain ebikes allow you to travel to your favorite hunting and fishing spots quicker and quieter than ever or free you up to discover new areas that you previously thought unreachable. The electric-powered motor is silent, combined with a Shimano or SRAM drivetrain and color LCD control panel to give you unprecedented control.
Built with high-quality components, a heavy-duty frame and 4.0-4.5 inch Fat Boy tires with puncture protection, our power bikes get you, your gear, and game out easier than ever and in just about any terrain or weather conditions.
GO Remote with ALL WHEEL DRIVE
If you need serious off road capability consider the Recon STRYKER. The Stryker has on demand dual wheel drive. You can run in eco mode with just rear wheel drive and kick in the front motor when the terrain gets rough or steep with the press of a button on the handle bars.
BUY NOW
Go Against the GRADE
Battery-powered bikes make tackling steep hills and inclines easier than ever. You operate our power bikes just like you would a traditional bicycle, except the motor assists your pedaling power and increases your ability to take on an incline. In addition to the pedal assist feature there is also a throttle to help you get going, or if your just not up to pedaling.
Our electric mountain bikes handle inclines and rough terrain thanks to phenomenal torque, especially when you drop down into a lower gear and use pedal-assist to unlock the ebike's true power going up an incline!
Do More With Helpful Power Bike Accessories
Recon Power Bikes offers a wide range of accessories for our electric mountain bikes, including additional storage, solar pannier charger, extra batteries, firearm and bow holder, trailers and more. Affordably equip your motorized mountain bike with everything you need for a successful hunting or fishing expedition!
Reduce Your Footprint
Another terrific benefit to using a Recon Power Bikes electric mountain bike is reducing your impact on the environment. Our power bikes are zero-emissions vehicles as they emit no combustion by-products. By spending less time in your truck or on an ATV, you can ensure the wilderness thrives long after you're gone so everyone can enjoy the same amazing hunting and fishing experiences you did! A few fun facts about electric bikes:
They are 18 times more energy-efficient than an SUV
They are 13 times more energy-efficient than a car
They are 6 times more energy-efficient than rail transit
They have about an equal impact as conventional bicycles
In fact, electric mountain bikes are permitted in many national parks and public lands, so you can enjoy the beauty of our great country without contributing a negative impact on the environment, but still gaining the assistance of a motor.
Shop Our All-Terrain eBikes Today!
Recon Power Bikes proudly offers a wide variety of all-terrain ebikes to best suit your needs and budget. Take a closer look at each of the best electric mountain bikes we offer and purchase your power bike today!