RVing & Camping Power Bikes
Unlock the Potential of the Great Outdoors!
Expand what you thought possible on your next camping or hiking trip thanks to the incredible potential of Recon Power Bikes. Our electric mountain bikes increase the range and speed in which you can soak up the beauty of nature, freeing you to discover new camping locations or to comfortably explore the world around you. Our battery-powered bikes allow for up to 50 miles of exploration on a single charge, speeds up to 30 MPH and are silent as a traditional bicycle. Learn more about our all-terrain ebikes and get yours today!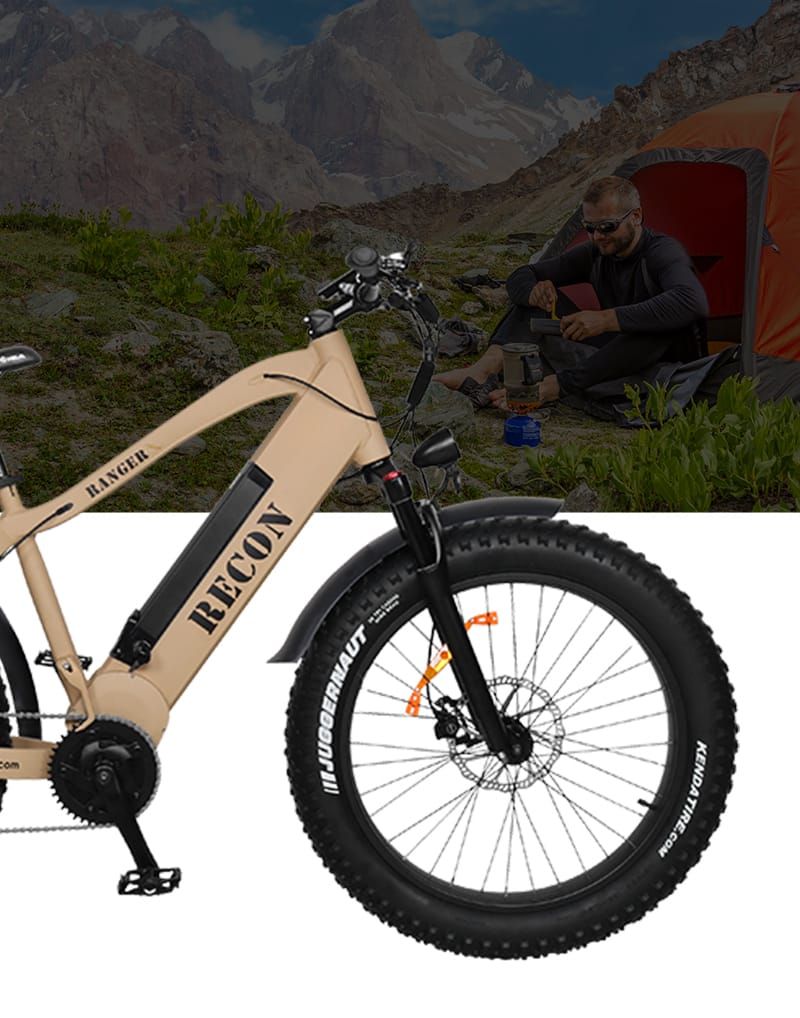 Why Choose Recon Power Bikes?







Best Electric Mountain Bikes For RVing, Camping and Hiking
Recon Power Bikes has long been used by federal, state and local law enforcement agencies and now you too can enjoy the great benefits of our electric mountain bikes! Easy to handle but powerful, our power bikes unlock new possibilities for your next camping or hiking experience.
Whether you're a hard-core camper or hiker who's looking to go where few have dared venture or enjoy a more casual, relaxing trip out with your RV, Recon Power Bikes are the best electric mountain bikes to bring along. They allow you to easily haul tents, clothes, kayaks or anything else you might need on your trip to the great outdoors.
Or, if you just want to drive out to the nearest parking lot near national parks or public land and cruise around in peaceful solitude, our motorized mountain bikes provide the additional range and speed to explore more in a day than you ever could on foot!
BUY NOW
Battery-Powered Bike
Featuring a best-in-class mid-drive motor (Recon Ranger) or 750-watt Hub motor (Recon Commando, both powered by 48-volt lithium-ion batteries, Recon Power Bikes are the best electric mountain bikes out there. Navigate the outdoors like never before and truly unlock its potential with speeds up to 30 MPH and travel distances up to 50 miles on a single charge. The only limit is your imagination.
Our all-terrain ebikes allow you to travel to your favorite camping and hiking locations quicker and quieter than ever or free you up to discover new areas that you previously thought unreachable. The electric-powered motor is silent, combined with a Shimano drivetrain and color LCD control panel to give you unprecedented control.
Built with high-quality components, a heavy-duty frame and 26-inch Fat Boy tires, our power bikes get you and your gear in and out easier than ever and in any weather condition. We also offer the Recon Scout, a lightweight folding bike that can easily fit in the trunk or backseat of your car or in your RV!
BUY NOW
What it Folds?
Recon Power Bikes is proud to offer the NEW Folding Scout. A sleek new design in a folding ebike. This bike will fold in half and the handle bars will fold down to fit into nearly any RV main storage compartment. Mag wheels have replaced the spokes for durability and a 500 watt motor fueled by a 48 volt battery give you an extended range. The 4″ fat tires (with puncture protection) offer a stable comfortable ride for just about any size rider.
BUY NOW
Do More With Helpful Power Bike Accessories
Recon Power Bikes offers a wide range of accessories for our electric mountain bikes, including additional storage, extra batteries, trailers and more. Affordably equip your electric mountain bike with everything you need for a successful camping or hiking expedition!
SHOP ACCESSORIES
Reduce Your Footprint
Another terrific benefit to using a Recon Power Bikes electric mountain bike is reducing your impact on the environment. Our power bikes are zero-emissions vehicles as they emit no combustion by-products. By spending less time in your car, truck or on an ATV, you can ensure the outdoors thrive long after you're gone so everyone can enjoy the same amazing camping and hiking experiences you did! A few fun facts about electric bikes:
They are 18 times more energy-efficient than an SUV
They are 13 times more energy-efficient than a car
They are 6 times more energy-efficient than rail transit
They have about an equal impact as conventional bicycles
In fact, electric mountain bikes are permitted in many national parks and public lands, so you can enjoy the beauty of our great country without contributing a negative impact on the environment, but still gaining the assistance of a motor.
Shop Our All-Terrain eBikes Today!
Recon Power Bikes proudly offers a wide variety of all-terrain ebikes to best suit your needs and budget. Take a closer look at each of the best electric mountain bikes we offer and purchase your power bike today!