Recon Scout Lightweight Folding Bike
Invest In The Best Folding Electric Bike
Take Your Electric-Powered Bike Wherever You Go!
One of the most popular electric-powered bikes in the Recon Power Bikes collection is the Recon Scout, a lightweight and portable folding electric bike. Our lightweight folding bike features the same great components and technology, but in a foldable body for convenient and compact transportation! Learn more about the best folding electric bike out there and get yours today!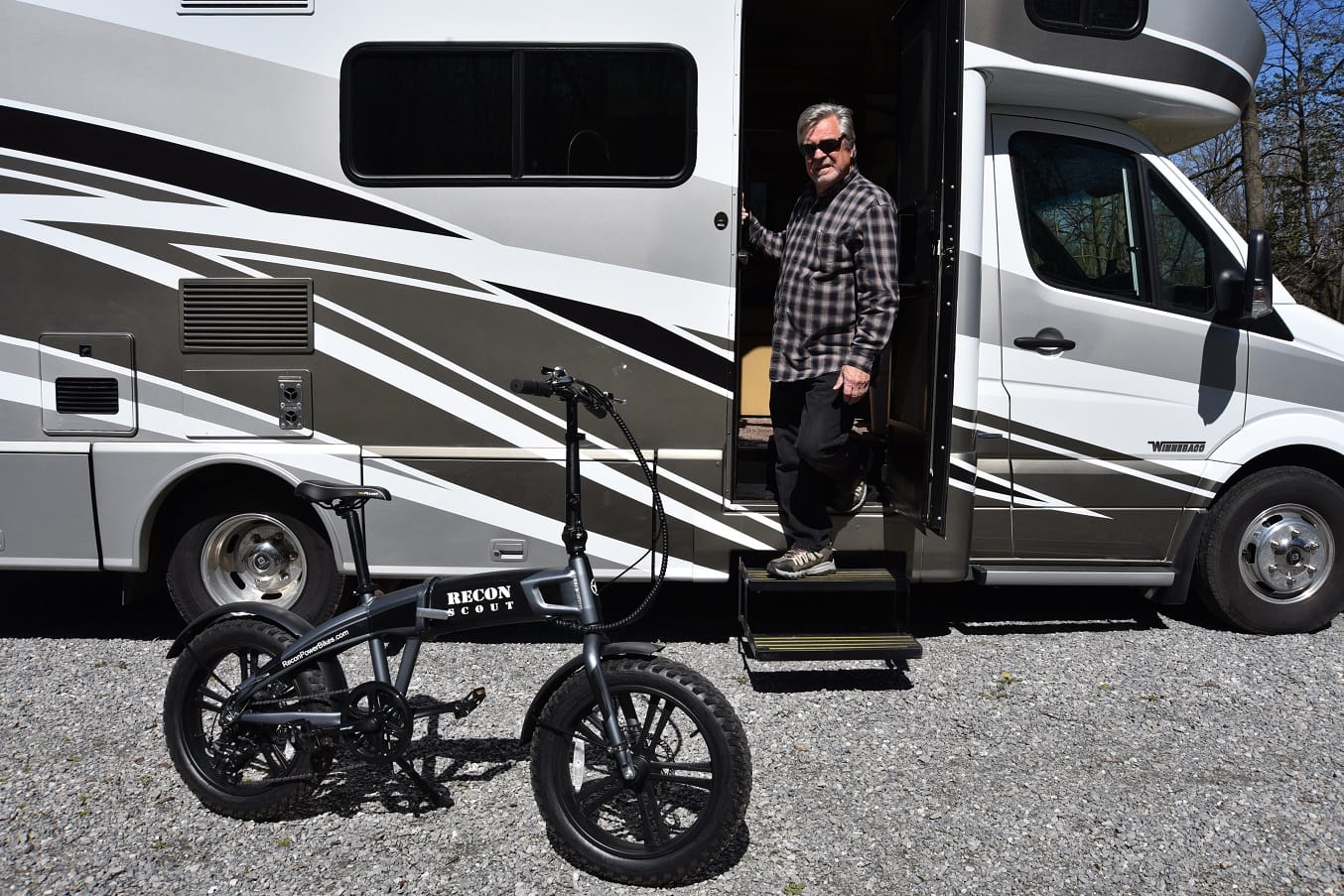 Why Choose The Recon Scout Folding eBike?

48 Volt Battery with 500 Watt Powertrain


Battery Hidden in the Frame


Fits In Trunk Or Backseat

All-Terrain Puncture Resistant Fat Tires
Rethink Lightweight Folding Bikes With the Recon Scout
Hitting your favorite trails has never been easier or more convenient thanks to the amazing Recon Scout foldable electric bike from Recon Power Bikes. Designed with a revolutionary foldable frame, the Recon Scout is the ultimate solution for compact and convenient biking.
Recon Power Bikes has long been the leader in law enforcement ebikes, but now our incredible electric-powered bikes are available to you! Made with high-quality components and technology for the ultimate riding experience, our power bikes are tough and durable.All-Terrain, Made Military Tough is our motto and our creed. Take the Recon Value Challenge today and see why Recon Power Bikes are the best all-terrain ebikes out there.
Foldable Frame and Adjustable Handle Bars
The Recon Scout foldable electric bike is the answer for those looking to ride whenever they feel like it. Essential to that end is the amazing foldable frame, which easily collapses the bike's frame in half and allows for the handlebars to fold neatly down to the side for compact and portable precision.
The adjustable handlebars make the Recon Scout suitable for anyone from a 100-pound woman to a 300-pound man. Our lightweight folding bike also features upgraded components such as a 500 watt motor powered by a 48 volt Samsung battery, mag wheels for durability, KShield 4" tires with puncture protection and a front suspension.
The Recon Scout foldable electric bike draws its power by a 500-watt hub motor, powered by a 48-volt Samsung lithium-ion battery hidden in the frame. Like all our electric-powered bikes, the Scout also features a Shimano drivetrain and LCD control panel, providing you with unprecedented control. You can reach speeds up to 20 MPH with a range of 20-35 miles per ride (based on weight, terrain and use of pedal-assist) and a charge time of 4-5 hours.
Recon Scout Features:
500-watt hub motor

Shimano 7-speed drivetrain

LCD control panel

Velo Plush saddle seat

Front-coil suspension

Five levels of pedal-assist

Max speed of 20 MPH
Our lightweight folding bike is also exceptionally comfortable thanks to a Velo Plush saddle seat and front-coil suspension, as well as five levels of pedal-assist or throttle. You are free to operate the Scout as you would a traditional bicycle, use only the battery power through the throttle or combine a bit of both for maximum power and speed!
Take Your Recon Scout Anywhere
When folded down, the Recon Scout has dimensions of 39.5" x 20" x 31" (open dimensions of 68" x 23" x 53"), making it easy to store anywhere, load up for a quick trip to the trails or pack away for a hiking or camping adventure. The Scout power bike is 45 pounds and has the option for fenders and a rear rack.
The Recon Scout foldable electric bike will fit in the bed of a pickup, in the trunk of a car or even the backseat! You can take the Recon Scout to work and fold it up in the office and it is a great option to keep in your RV or camper for hunting, fishing, hiking or camping trips. The possibilities are endless. The only limitation is your imagination!
Do More With our COOL Power Bike Accessories
Recon Power Bikes also offers a wide range of accessories for our electric-powered bikes, including additional storage capacity, extra batteries for extended life, firearm and bow holder for hunters, trailers and more. Affordably equip your all-terrain ebike with everything you need for a successful adventure!
Power Bike Accessories Available:
Extra Battery

Hitch Hauler

Firearms & Bow Holder

Trailers

Rack Bags

Solar Chargers
GPS Tracker

And More
Shop Our Electric-Powered Bikes Today!
Recon Power Bikes proudly offers a wide variety of all-terrain ebikes to best suit your needs and budget. Take a closer look at each of the best electric mountain bikes we offer and purchase your power bike today!