Electric bikes are taking the world by storm. With the benefit of being able to go farther with power assist, it's rechargeable nature, and the fact you get an incredible workout, ebikes are quickly becoming the preferred mode of transportation around town, on vacation, and anywhere really.
RECON Power Bikes began with the mission to design the best ebike for law enforcement. As former military and police, our founders understand the unique needs of law enforcement and have designed our ebikes and electric bike accessories to meet those needs. In addition, our civilian bikes take the cake with regards to performance, look, and pure fun. Below, we'll take a look at our best electric bikes. Continue reading, decide which bike you want, and order today!
BEST ELECTRIC BIKES AND THEIR FEATURES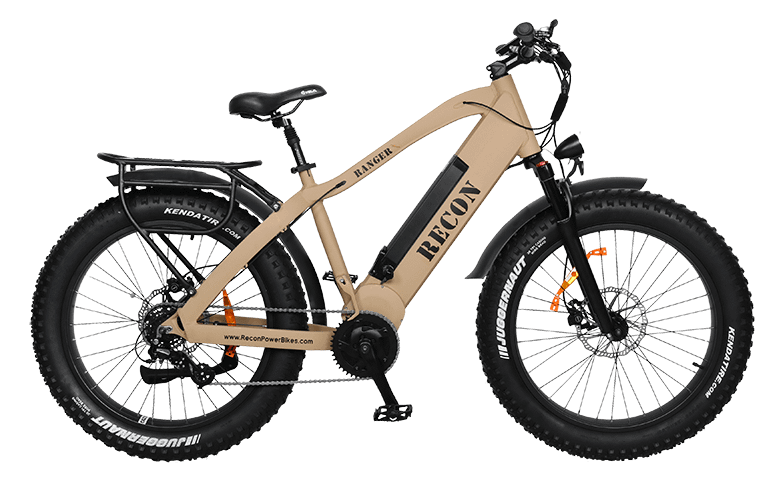 Performance
Electric mountain bikes offer you the ability to travel longer and further with their power assist. Featuring lithium ion rechargeable batteries with powerful 1,000 watt mid-drive motors, you'll be cruising all day long on our best electric bikes. Our RECON Ranger ebike comes in black, white, desert tan, or multicam with hydraulic disc brakes and a color smart LCD. Perfect for fun, sport, or play, you'll love the ease of shifting and the enjoyable ride every time. Order today!
Comfort
Since electric bikes are designed to be used a lot longer than regular bikes, you want to be comfortable while riding. Things to look for with electric mountain bikes are the padding of the seat, the ease of adjusting the seat, and the ebike's frame. RECON Power Bikes is proud to offer our RECON Sortie, which is designed for comfort both for your on and off-road riding. It features a step-through ebike frame with the classic "v-shape" design that you're used to seeing on regular bikes. It is powered by a 48 volt lithium ion battery and features a 750 watt rear hub motor. If you are looking to increase your endurance and augment your pedaling power, choose the Sortie. In fact, you can't go wrong with this best electric bike. Order today!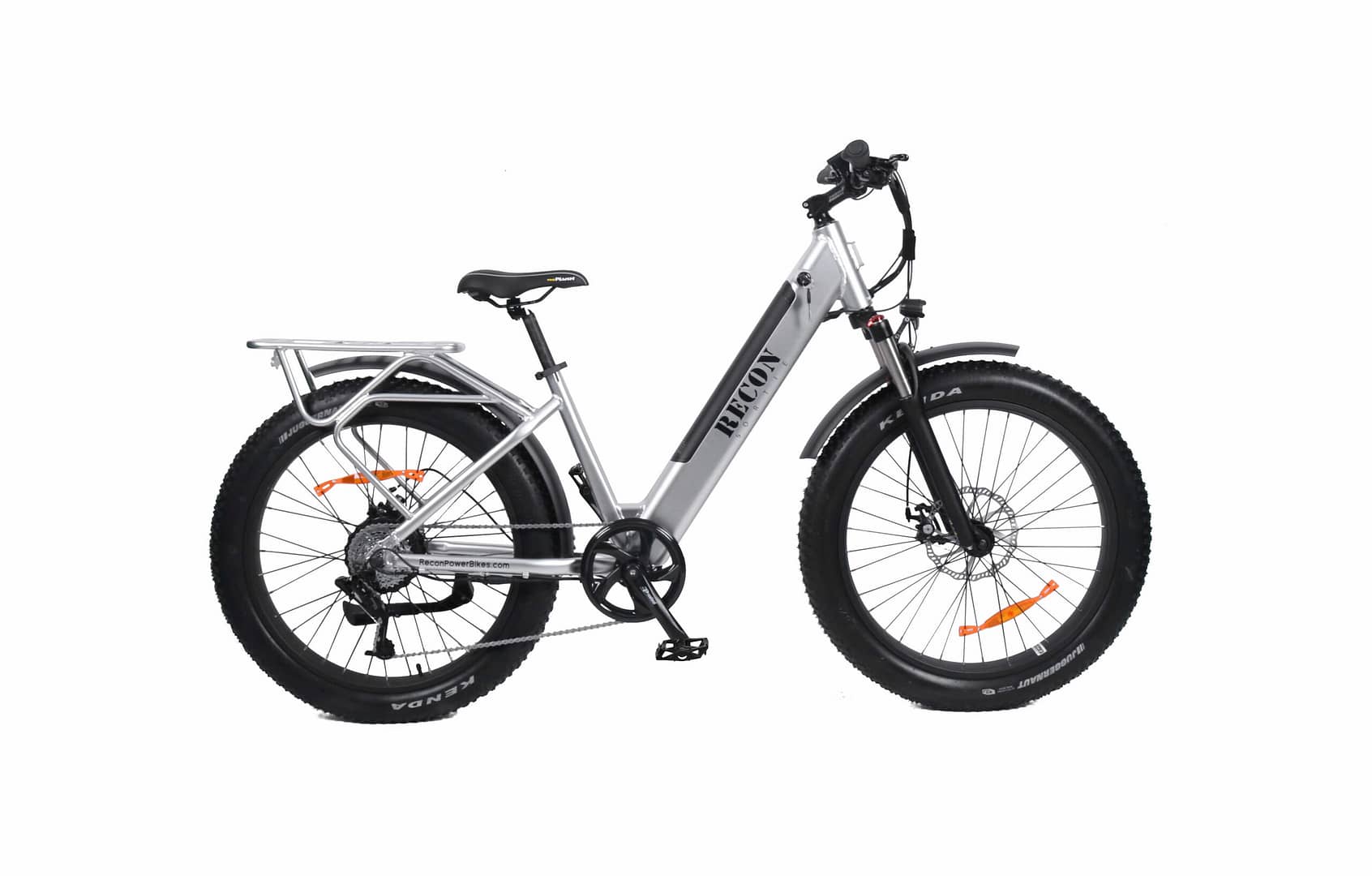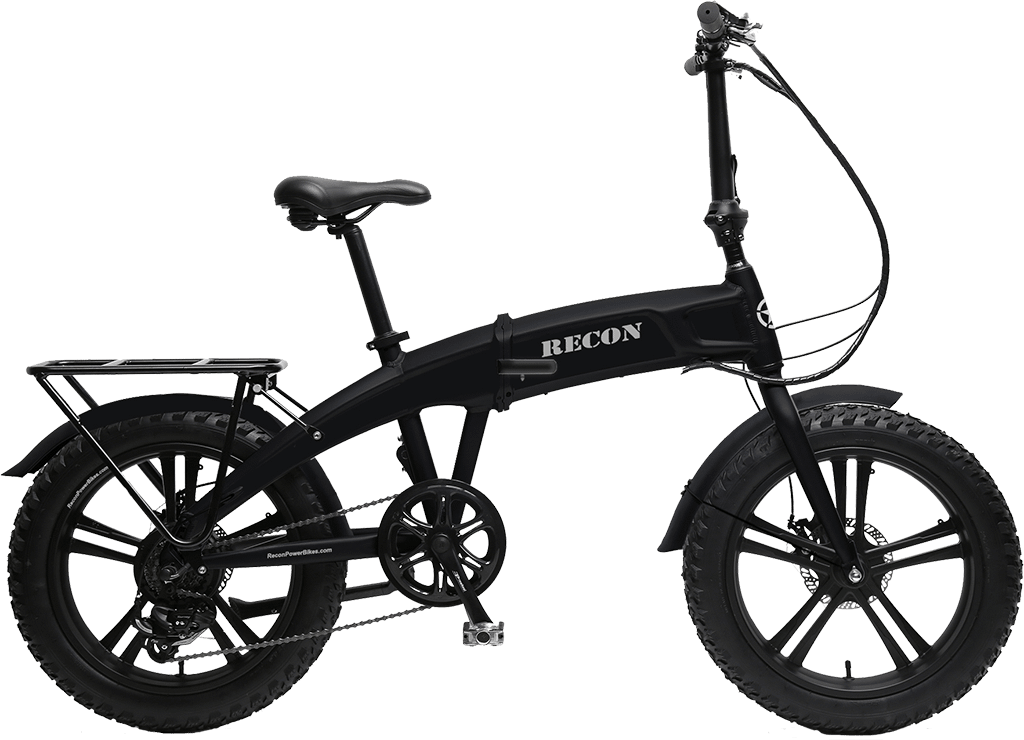 Style
Let's face it, we all want to look good no matter where we go. RECON Power Bikes has poured our hearts and souls into designing the best electric bikes that look amazing. Our folding ebike, the RECON Scout, offers the ultimate in style. Designed for versatility and portability, our folding ebike will get attention wherever you go. It features a 500 watt hub motor, a Shimano drivetrain, and a super comfortable adjustable seat. If you are looking for the best folding ebike that looks good both folded and on the road, order this best electric bike today!
Go Where You Go
Being able to go to places that most people can't go or won't go is a thrill. When you have the power of an all-wheel-drive electric bike, you'll be able to conquer the toughest trails and see the beautiful scenery wherever you go. Our RECON Stryker AWD offers superior performance with dual motors that offer a 1,000 watt kick whenever you need it. No more worrying about if you'll make the top of the next hill. Our RECON Stryker is comfortable and built for the long haul. If you are looking for the best electric bike that will go where you go, invest today!
Adventure
Most of us live in a routine. Our days look the same, and while that is great for daily living, getting out and having adventures is important, too. With RECON Power Bikes' RECON Commando, you'll experience adventure at every turn. This best electric bike offers superb traction, excellent off-road performance, and a smooth on-road ride. You'll be riding for hours and not even realize that time has flown by. With an ultra stable frame and platform and a 750 watt hub motor, you'll be ready at a moment's notice. Order this best electric bike today!
ORDER YOUR BEST ELECTRIC BIKE TODAY
Don't miss out on the amazing benefits of these best electric bikes. You'll enjoy every moment of your free time, and you'll go places you've never been before. Whether you are law enforcement or you are just looking for the best ebike, we've got your needs covered. Designed to handle the stresses of both work and play, these electric mountain bikes will go and go.
Plus, we offer great ebike accessories, from our RECON Pannier to store your gear to our Stealth Trailer with Rear Rack for your longer adventures, such as for hunting, fishing, camping, and more. Invest in our hitch hauler so your motorized mountain bike is easy to transport.
What are you waiting for? When you go on your next RV, camping, or vacation, having an electric assist bike can make all the difference in the world. Order these best electric bikes today!